6 Tips on How to Retain Your Best Salespeople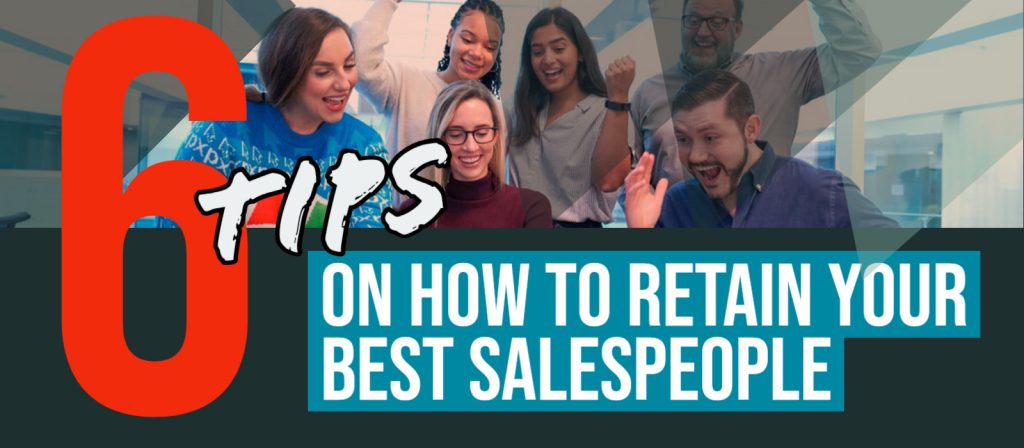 Working in the Sales Industry is one of the toughest jobs. Because of how challenging this profession is, finding and keeping talent is hard. It can feel like a vicious cycle to Human Resources or Management.  Salesperson turnover is a common and expensive problem that every industry faces.
The average turnover rate of salespeople in an organization is about 16%.  It definitely affects the company's bottom line, but it also affects the morale of the salespeople on the front line.
Companies spend millions of dollars every year on strategies to attract and recruit some of the best salespeople in the world.  Allocating resources to retaining these salespeople would save money and result in more sales. Here are 6 tips on how to retain your best salespeople.
1. Hire the right People
Jim Collins coined the, "Getting the right people on the bus." phrase. Have you ever heard it? It has since morphed into other corporate catch phrases, but the axiom still holds true. You have to hire the right person for the job.  I recently wrote an entry on hiring for attitude over skill and I stand behind it. Skill can be taught. Attitude cannot. If you hire a person with the right skill set, but the wrong attitude, it will wreak havoc within your organization the same way one bad apple can spoil the whole bunch.
There are professional floaters. Salespeople who float from company to company in search of their next salaried position. Some are polished and very difficult to catch. It will require calling on their references but it is worth it considering the cost of hiring, firing, and then on-boarding a new sales rep.  Making a few 5 to 10 minute calls with references can save you weeks or months of headaches down the road.
2. Instill A Purpose
If you tell a brick layer to start laying down bricks with no specific purpose or vision of what is being done, the brick layer will eventually quit from fatigue or boredom.  If you tell a brick layer that every brick they lay is for a wall that is going to insulate and protect their country, or to shelter their own family, the brick layer now has a sense of purpose.
Sales companies that only teach their agents to sell and churn out numbers will eventually be out of business.  If your salespeople have to sell widgets then make sure they understand the significance of each sale. Getting a paycheck is great, but the paycheck wont motivate a salesperson on a bad day or worse yet bad month.
Your organization has to sell, sell, and resell your vision. Contrary to what you might think, your troops can't hear it enough. There's a reason you are leave a Disney theme park Disney'd out. Everything there is branded with Disney so that you are sold, sold, and re-sold. Cups. Napkins. Shopping bags. Everything. You are immersed in it. You leave whistling or humming Disney songs. Your salespeople need that type of culture.
3. Offer Career Growth
You will lose 21% of your salespeople leave because of the lack of career growth.  This is not only limited to promotion opportunities. People get bored. Salespeople are no different.  It can be scary to hear that your top salesperson doesn't feel motivated anymore especially when they are hitting their numbers.  This is usually a cry for help and a desire to develop new skills.
When we only emphasize hitting sales goals we forget that what really drives people. People want a sense of purpose and growth. If we don't listen to our top performers they will find another organization that will. It pays to invest in the skill development of salespeople, as well as, promoting the opportunity to acquire additional skills by creating adequate promotion opportunities along the way.

4. People Are Starving For Recognition
Recognition is necessary in all industries, not only in sales. Every employee wants to feel like their work is appreciated and valued. It's easy for superiors to have a "That's what they're getting paid to do right?" attitude, but that doesn't foster a culture where people genuinely want to do more than they are asked for the betterment of the organization as a whole. Take care of the overachievers in your organization.
Recognition isn't only bonuses, commissions, and salary increases. People crave things that have meaning. Monetary rewards are short lived-especially with sales professionals. Celebrating someone's big and small victories with words and commendation is a meaningful way to make someone within the organization feel special. Do this publicly in front of others, especially their peers, and you earn brownie points. Wins should also be celebrated in the forms of company benefits and opportunities for personal growth.
5. Get Rid of the Boiler Room Mentality
Public perception of the professional salesperson is usually not good. Our profession has been referred to as sleazy, manipulative, and dishonest to name a few. Warranted or not, these stigmas exist and many start from within our own organizations. 
Sales horror stories detail struggles of overworked and over pressured sales agents to achieve regular hard pressed quotas, where they breakdown and struggle with poor mental & physical health. Rumors or not, it is our duty to eliminate these perceptions if we want to retain talent. To do this, we need to be just as concerned about the well being of our sales force as we are about the sales figures.
6. Start From Within
Any organization is only as good as it's leadership. As such, it is important that you don't only assign or require that your salespeople attend conferences to sharpen their skills, but that we lead the charge and do the same. You may not be in sales, but there are plenty of HR conferences or management seminars that you can attend virtually or in person. Just as children do as their parents do and not as they say, your sales force will do as you do. If there is a culture of consistent improvement everyone will follow. Nobody wants to stay in a group where their leaders slack off or where the leaders do not know how to empathize with their members. In the Sales industry, effective and empathetic leadership is important because of how saturated and competitive the nature of the business is. Therefore, it is necessary to produce sales managers that are equipped with the skills and knowledge to lead. Investing in good leadership that includes self improvement is also investing in your employees' welfare.
Another common mistake that companies make when it comes to leadership is hiring new managers instead of nurturing one from the existing team itself. Newly-hired sales managers usually end up detached from the team because they lack the sense of empathy and the experience to cope up with how the team is running. If companies develop leaders from within the team, all the skills and experiences that newly-hired sales managers lack can easily be offered by these home-grown leaders.
I know firsthand what it's like to invest time, money, and emotional resources into someone only to see them leave. It's a part of the cycle, but the more you can minimize defection and increase retention, the better off your organization will be. These 6 tips I shared are probably not new to you, but they bare repeating and re-implementing regularly.
---